The dedicated Cold Chain & Meat Process show for agriculture, livestock, and aquaculture products in Taiwan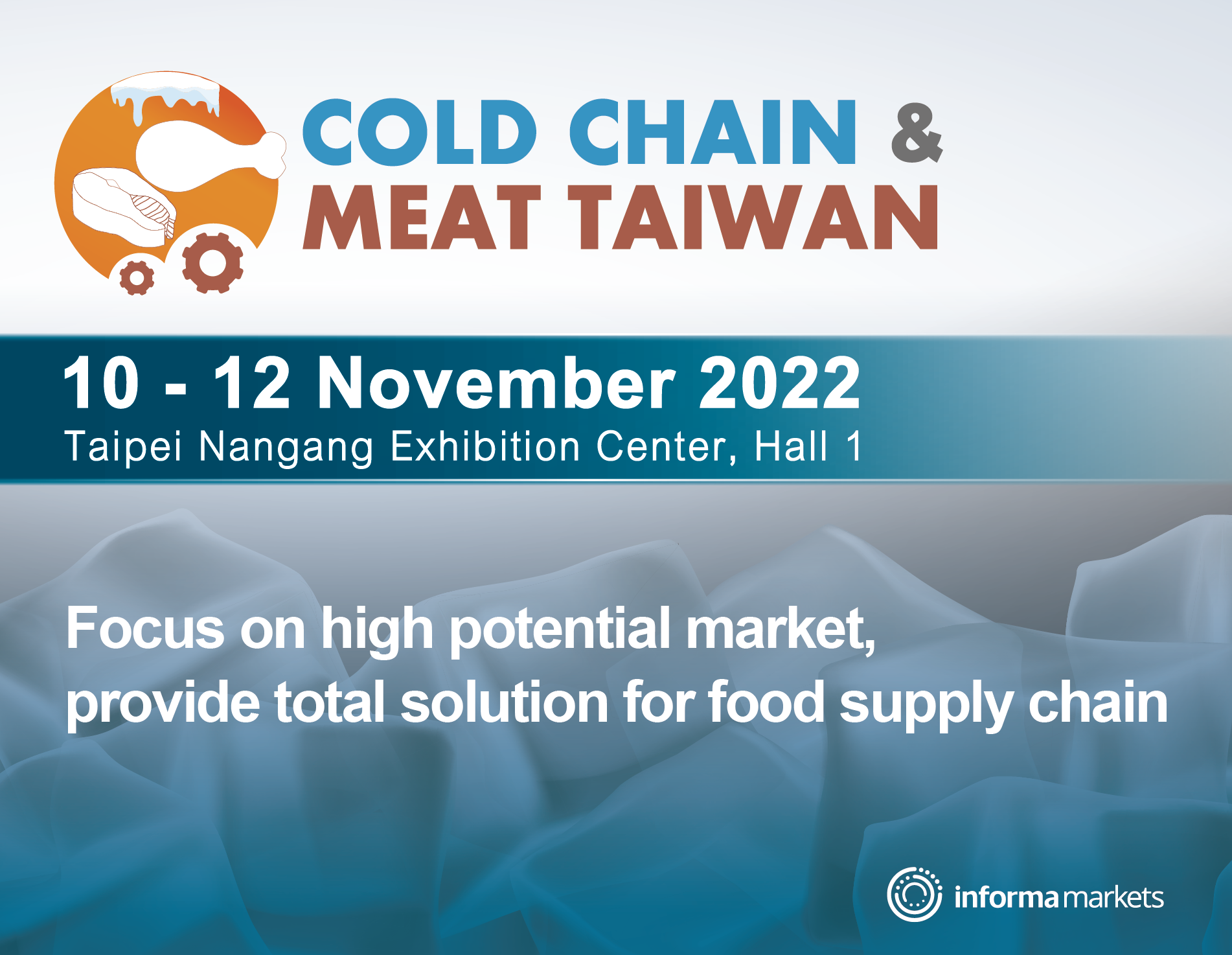 The dedicated Cold Chain & Meat Process show for agriculture, livestock, and aquaculture products in Taiwan
The world's biggest exhibition organizer Informa Markets Taiwan Branch is launching the Cold Chain & Meat Taiwan Expo (CMT) on 10th ~ 12th of November 2022 at Taipei Nangang Exhibition Center, which is the dedicated international B2B show for agriculture, livestock, and aquaculture products. The CMT will display cold chain logistic, storage facilities, secondary meat process equipment, packaging equipment, printing equipment, etc.
CMT will be co-located with the 6th Asia Agri-tech Expo & Forum, Livestock Taiwan and Aquaculture Taiwan Expo & Forum. This 4-in-1 exhibition will occupy over 600 booths and expect over 20,000 professional visitors.
The General Manager of Informa Markets Taiwan Branch stated that: the CMT is born for Asia Pacific exhibitors and visitors' demand regarding upgrading their production equipment. Taiwan has huge potential market demand for cold chain logistic products, services, equipment, etc. To be in line with government policies, slaughterhouses or meat sellers have to upgrade their equipment and facilities. At the present, Taiwan very much relies on importing such cold chain and cold storage equipment and technologies. In addition, CMT will also display meat process equipment, refrigerators, transportation equipment, storage equipment, meat packaging, etc. We believe that exhibitors and visitors will get fruitful feedback from the CMT.
| | | |
| --- | --- | --- |
| | | |
| The famous egg equipment brand SANOVO exhibited egg washing & grading machines in Livestock Taiwan 2021 | 26 tons and 5 tons refrigerator trucks exhibited in Livestock Taiwan 2021 | More than 12,000 professional visitors visited the Asia Agri-tech Expo in 2021 |
About Informa Markets
Informa Markets creates platforms for industries and specialist markets to trade, innovate and grow. We connect buyers and sellers across more than a dozen global verticals, including Agriculture, Livestock, Aquaculture, Pharmaceuticals, Food, Medical Technology, etc. As the world's leading market-making company, we bring a diverse range of specialist markets to life, unlocking opportunities and helping them to thrive 365 days of the year.
For Media Enquiries, please contact:

Ms. Sophia Lu

Informa Markets Asia Limited Taiwan Branch

Tel:+886-2-2738-3898

Fax:+886-2-2738-4886

Email:informa.sales.tw@informa.com

Website:https://www.coldmeattaiwan.com/en/