Japfa Comfeed Vietnam inaugurates sixth animal feedmill in Binh Dinh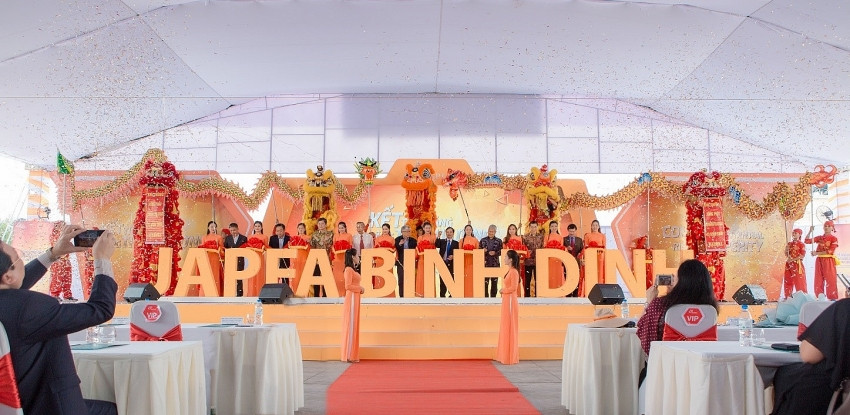 Japfa Comfeed Vietnam Co., Ltd. has recently inaugurated a modern and high-tech feedmill in the southcentral province of Binh Dinh, their sixth feedmill in Vietnam, aiming to supply high-quality animal feed for potential markets in the central region.
The feedmill, based in Nhon Hoa Industrial Park in An Nhon district, has been constructed in an area of 7 hectares in a planned industrial park that cost a total investment capital of about VND300 billion ($13 million).
Equipped with a modern production line and advanced technology, the feedmill has a designed capacity of 180,000 tonnes of animal feed per year. Before the completion of this sixth feedmill in Binh Dinh, Japfa Vietnam has been operating five animal feedmills in Vinh Phuc, Thai Binh, Hoa Binh, Long An, and Binh Thuan provinces.
Touted as one of the key projects of Japfa Vietnam in 2020, the inauguration ceremony was graced by the presence of Nguyen Tuan Thanh - Vice Chairman of Binh Dinh People's Committee; Phung Duc Tien – Deputy Minister of Agriculture and Rural Development; Ibnu Hadi – Indonesian Ambassador to Vietnam; and distinguished guests from various sectors.
"Despite the disruption of the COVID-19 pandemic and the threats of the swine flu and other factors, we still successfully affirmed our commitment to continuous development," said Arif Widjaja, general director of Japfa Vietnam. "With the mission of 'Growing towards mutual prosperity', Japfa Binh Dinh will help offering more values to stakeholders, creating more jobs and more opportunities for local people. We also expect to contribute more to the development and prosperity of Binh Dinh and Vietnam."
According to Japfa Vietnam's top leader, along with the five other mills, the official operation of this sixth feedmill will facilitate the achievement of some key targets in both the short and long term, such as obtaining one million tonnes of feed in 2020, occupying approximately 5 per cent market share, and maintaining an average growth of 12 per cent per annum.
With the right strategies and strong determination, Japfa Vietnam has remained one of the leading players of the husbandry industry for decades despite the disruption and fluctuation of 2020.
In October, Japfa Vietnam kicked off a high-tech swine fattening farm in Binh Phuoc province, which was one of the biggest single fattening swine farms of the country with teh total investment capital of VND500 billion ($21.74 million).
The farm located in an area of 40ha, capable of raising 48,000 fattening pigs and estimated to supply more than 14,000 tonnes of live pigs per year. Earlier, in July 2020, Japfa Vietnam officially launched its first aquafeed products and set a 10-year target of achieving accumulated sales of 200,000 tonnes of aquafeed per year.
Japfa Vietnam is well-known in the feed and farm business with six feedmills, more than 300 professional poultry and swine farms, more than 20 meat shops serving fresh meat and processed food products under the Japfa Best brand. The farming business has become a core strength of Japfa Vietnam, when it successfully adopts advanced technologies and worldwide best practices to the farming system.
Receiving strong support from the central and local governments and the cooperation of all partners, Japfa Vietnam is ambitiously targeting 2 million tonnes of feed in the next five years with more feedmill projects in the coming years and reaffirming the position as one of the leading feed and animal agriculture producers in Vietnam.
Japfa Vietnam is a wholly foreign-owned company invested by Japfa Limited, a group of companies with a head office in Singapore and subsidiaries in Indonesia, India, Vietnam, Myanmar, China, and Bangladesh.
Japfa Limited extended its investment to Vietnam in 1996 under the form of a joint venture with Vietnam Livestock Corporation. After three years of aiming to thrive in the Vietnamese market, the company has successfully transformed to a wholly foreign-owned company in 1999 and renamed as Japfa Comfeed Vietnam Co., Ltd.
After more than 20 years of development, Japfa Vietnam has grown into one of the leading companies in Vietnam specialising in feed and husbandry.
Source: Vietnam Investment Review