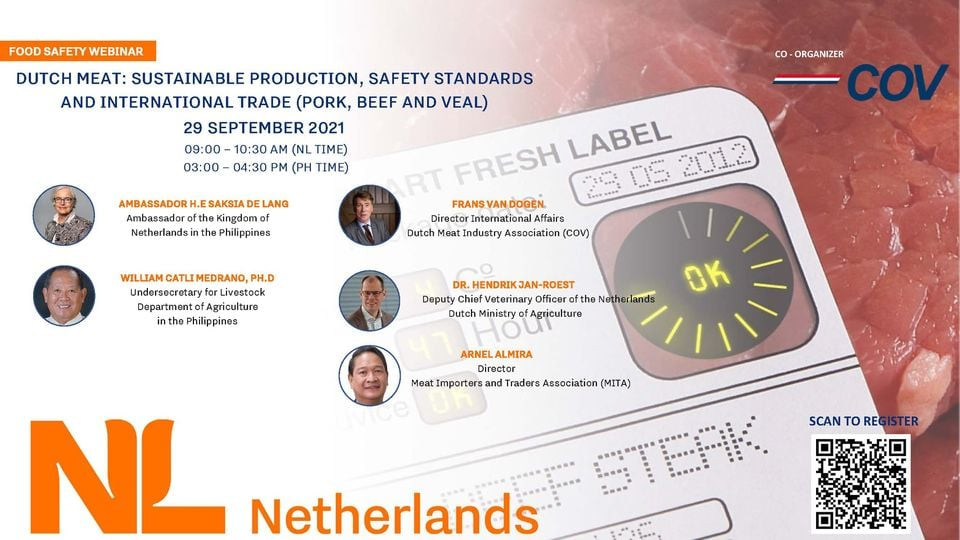 This industry webinar is organized by the Embassy of the Kingdom of Netherlands in the Philippines and co-organized by the Dutch Meat Industry Association (COV).
📣 Topic: Dutch Meat: Sustainable Production, Safety Standards, and International Trade (Pork, Beef, and Veal)
🗓️ 29 September 2021 (Wednesday)
🕒 3.00 PM – 4.30 PM (Philippine time)
Food safety is a vital element to secure that every food given to the consumers is safe to avoid foodborne illnesses. This webinar will help us understand the policies encompass in the Philippines and the Netherlands about food safety which comprises sustainable production, safety standards, and international trading of pork, beef, and veal. This webinar will also teach us some best practices to start a business in the Philippines that will benefit those who want to do business relating to food processing, meat processing, importing, and trading meat.
🎤 Agenda & Speaker:
✔️ Topic: Welcome / Opening remarks - Speaker: Ambassador H.E. Saskia de Lang - Ambassador of The Netherlands in The Philippines
✔️ Topic: Introduction of Organization, etc. - Speaker: Frans van Dongen - Director International Affairs of COV (the Dutch Meat Industry Association)
✔️ Topic: Philippines Food Safety - Speaker: William C. Medrano, Ph.D. - Undersecretary for Livestock Department of Agriculture in Philippines
✔️ Topic: Netherlands Food Safety - Speaker: Dr. Hendrik-Jan Roest - Deputy Chief Veterinary Officer of the Netherlands at the Dutch Ministry of Agriculture
✔️ Topic: Practical tips on doing business in the Philippines - Speaker: Arnel Almira - Director of Meat Importers and Traders Association (MITA)
Closing and instruction for B2B online matching with Dutch Meat Suppliers
---
WATCH WEBINAR
Organized by Informa Markets, under Livestock Series Webinar, Aquaculture Week is held on 27 - 29 October 2020
📣 Topic: Philippines' Region 3 Aquaculture Overview amidst COVID-19 Pandemic
🗓️ Friday, 29 Oct 2020
🕒 13:00 - 13:45 (Thailand time)
🎤 Speaker: Mr. Willy Cruz - Regional Director, Bureau of Fisheries and Aquatic Resources Regional Office No.3
---
WATCH WEBINAR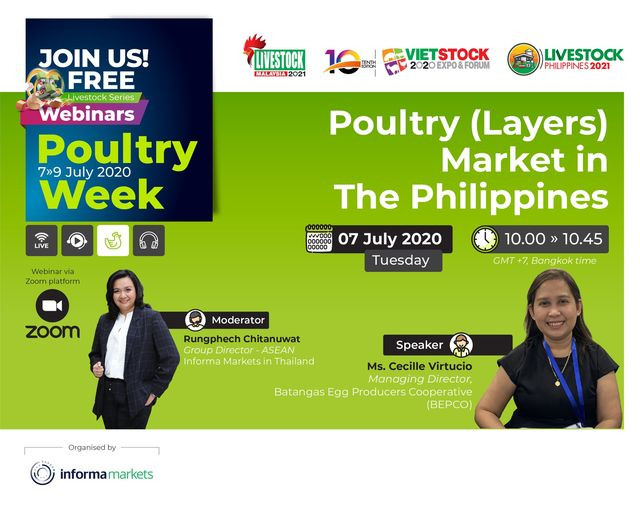 Poultry Week (07 - 09 July 2020)
📣 Topic: Poultry (Layers) Market situation in Philippines
🗓️ Tuesday, 07 July 2020
🕒 10:00 – 10:45 (Thailand Time)
🎤 Speaker: Ms. Cecille Virtucio - Managing Director, Batangas Egg Producers Cooperative (BEPCO)
---
WATCH WEBINAR